Searching for the best beaches in Thailand, we learned to look first for the most popular Thai islands. Thailand has hundreds of islands and even more beaches. buy expiring domains So would the best beaches be on the on the most popular islands? It seemed logical, so we went down that path, and then ran into trouble with the term "best". For what we found again was that while the ratings of islands and their beaches stayed about the same each year, our definition of "best" changed often.
So we read anew all the experts online and found what they feel the top beaches and islands offer today, and our take on what CL Beach readers need to know.
Islands and Beaches
According to Wikipedia, Thailand has hundreds of islands in the Andaman Sea and Gulf of Thailand. Interestingly, the islands are all near the coast – making access easier. Thailand interactive map .   The map below shows the array of islands off both Thai coasts.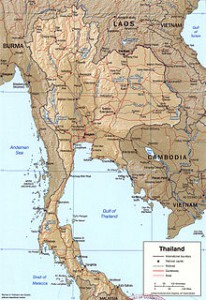 What the Experts Say are the most popular Thai Islands
We reviewed Touropia, a great source on Thai islands, and known for overall travel lists worldwide. Based on their sources and reviews, their best Thai islands/Ko (Island = Koh or Ko in Thai) are shown below.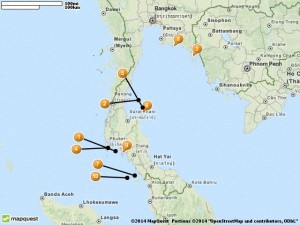 Of these, we agree with 6 of their top 10 islands.
# 1 Ko choice:
Ko Phi Phi, in the Krabi Province, is becoming a year-round home for many.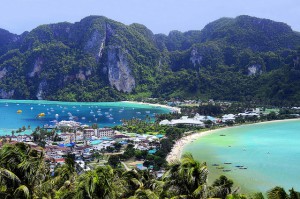 Ko Phi Phi is the largest island of an island group, and beautiful. What sets it apart from other?  It boasts  a sizable year-round population.   Travelers say, it has it all
2. Koh Tao: A fun place for scuba divers, hikers and rock climbers.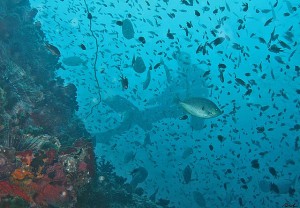 Here is a typical view greeting scuba divers and snorkelers when visiting Koh Tao. We could do this all day, and many do.
3. Ko Chang: the third largest island in Thailand – with Long Stretches of white beaches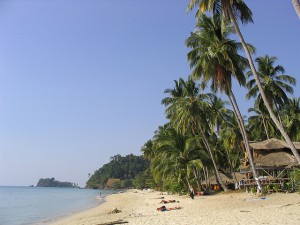 This large island is well known for its mountains and rainforests, and also its coral reefs. When asked, visitors often bring up its long, open stretches of white sandy beach. Easy to take.
4. Phuket Province Islands – Beautiful and near the Mainland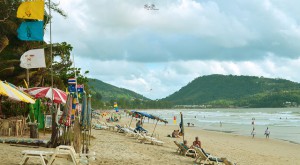 Phuket is a Thai province that includes a large island and several smaller islands near the mainland. It is just outside of Bangkok, with Bangkok's tourists searching out these islands. Its popular also because of the array of resort accommodations across the islands, and their white beaches.
5. Ko Phangan: For Backpackers, photographers and divers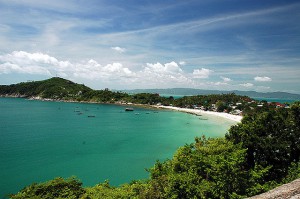 Ko Phangan is an island in the Gulf, located between Ko Samui and Ko Tao. Its name pops up often in the backpacking community and photography blogs.  The combination of  its rainforests and beaches. makes it enticing to these groups.
6. Ko Samui: Most visited islands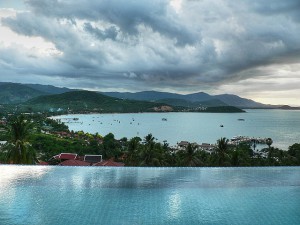 Being the most visited of islands in Thailand, resorts and accommodations are plentiful and varied — with a wide range of prices — to meet most needs.  While rated 6th, all of the above Islands have unique charms and are hard to really separate.
Best BEACHES in Thailand
Do the most popular Thai Islands have the best beaches too? Not necessarily, but it's pretty close.
Again, "best" depends on what you are looking for, according to Suzanne Nam, who rates many of these sandy spots and discusses them in her newsletter.   Also Travelers Choice, on top of trends, seems to agree. We went through their top 10 beach destinations, and agree with most of them. Here is our Top 5,  based on their collective insights.
1. Patong Beach, on Phuket
Its the largest beach on Phuket and appears to be the most popular beach. It has it all: long and wide sandy beaches, warm water and hotels. Combining that with the shopping nearby, makes for a great day. Plus, its quality restaurants, and night life is well known.  At night it can get loud and fun.
2. Railey Beach, on Krabi Province, near Mainland
This pops up #1 and #2 regularly. It's technically on the mainland, but it feels remote. public domain . Best parts seem to be its tranquility, and having what a what most want in a beach: swimming, diving/snorkeling, along with beautiful surroundings. Plus, take a break from the beach, and do some climbing and hiking.
3. Maya Bay Beach, for Day-Trippers
This secluded beach is near Ko Phi Phi. Located in a bay, it sits under tall hills, and looks  beautiful coming and going. As there are no hotels, visitors must travel by boat from Ko Phi Phi for the day. We are told it gets sometimes crowded, but its beauty trumps the hassle.
4. Hua Hin Beach, off Hua Hin near Bangkok
This is a family-fun beach. Hua Hin beach has a gradual slope into the water, perfect for young children playing, and parent-kid-watching. There is also a lot to do, with many attractions, other than just water sports. Being easy to get from Bangkok makes it convenient as well.
5. Kata Beach, on Phuket, Near Patong Beach
Kata is known for having beautiful views, warm water and surfing part of the year. Its also quiet with very few hotels and shopping nearby, unlike its nearest neighbor Patong Beach. Its what most expect in a top beach: trees, warm water and beauty. But, it's probably not the 'best beach" by kid standards.
***
Good advice from all, and good luck on picking your top choice. We will see you this year – for sure – at Patong Beach, or Railey Beach or Maya Bay or …
CL Beach
Summary
Article Name
Popular Islands and Best Beaches in Thailand
Description
Searching for the best beaches in Thailand, we learned to look first for the most popular Thai islands.
Author